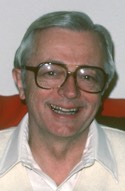 Birth Place
Minneapolis, Hennepin Co., Minnesota, United States
Bapt Date
6 Apr 1924 [5332] Age: <1
Bapt Place
Minneapolis, Hennepin Co., Minnesota, United States
Bapt Memo
Simpson Methodist Church
Census Date
16 Apr 1930 [1576] Age: 6
Census Place
Edina, Hennepin Co., Minnesota, United States
Census Memo
4617 Casco Avenue
Reside Date
1 Apr 1935 [3202] Age: 11
Reside Place
Edina, Hennepin Co., Minnesota, United States
Reside Memo
4404 Sunnyside Avenue [current maps say "Road"]
Census Date
12 Apr 1940 [3202] Age: 16
Census Place
Edina, Hennepin Co., Minnesota, United States
Census Memo
4404 Sunnyside Avenue [current maps say "Road"]
Retire Place
Harvest Consulting, Inc.
Death Place
Edina, Hennepin Co., Minnesota, United States
Burial Place
Minneapolis, Hennepin Co., Minnesota, United States
Burial Memo
(Cremated) First interred at Crystal Lake Cemetery, then urn moved to St. Stephens Church, Edina, MN in 1990.
Occupation
Business Advertising (see also, Employment History)
Education
Edina Morningside school (grades K-8); graduated 11-JUN-1937.
Education
Ramsey (9th grade)
Education
Yale University, School of Engineering, Class of 1945 (graduation deferred till after war, 16-Jun-1947, B.A. in Latin American Affairs).
Education
Foreign Service Institute, Class of 1947, Washington, DC.
Military
22-SEP-1941 Enrolled Basic Course Field Artillery, Senior Division, Reserve Officer's Training Corps.
[3429]
19-NOV-1942 Enlisted in US Army Reserve Corps., serial # 11,092,152.
[3427]
30-JAN-1943 Completion of training program.
[3429]
12-JUN-1943 Recalled to active duty.
[3430]
24-JAN-1944 Non-commissioned officer, Corporal.
[3430]
07-FEB-1944 Entered officer candidate training.
02-JUN-1944 Honorably discharged as Corporal, to accept appointment as 2nd Lt., Fort Sill, Oklahoma.
[3430]
03-JUN-1944 Field Artillery Officer Candidate School Class 110, appointed 2nd Lieutenant, Fort Sill, Oklahoma.
[3426], [3431]
19-FEB-1945 Sent to Asiatic-Pacific Theater (Hawaii), arrived there 25-FEB-1945.
[3433]
607th Coast Artillery Battery.
[3433]
Schofield Barracks from about Apr. 1945 to Jul. 1946.
Field Artillery Unit Commander. Motor Transport Officer. Reconnaissance and Survey Officer.
[3207]
17-SEP-1945 Temporary promotion to 1st Lt.
[3435]
14-JUN-1946 Return from service outside continental USA (Hawaii).
[3433]
Total time overseas: 1 year, 3 months, 26 days.
20-JUN-1946 Appointed 1st Lt. Field Artillery.
[3432]
02-AUG-1946 Separation at Camp McCoy, Wisconsin.
[3207], [3433]
01-APR-1953 Honorable Discharge as First Lieutenant.
[3418]
Awards/Decorations: Asiatic-Pacific Theater ribbon, 11-Aug-1945; American Theater ribbon; World War II Victory ribbon.
[3207], [3433]
Employment History
• U.S. Foreign Service, Department of State.
3 concurrent titles:
Foreign Service Officer Class 6,
Secretary in the Diplomatic Service of the United States,
Vice Consul of the United States of America.
Initial Appointment, 17-JUL-1947, effective 28-JUL-1947.
[3428]
Salvador, Bahia, Brazil, Nov. 1947 - Apr. 1949
Rio de Janiero, Apr. 1949 - May, 1950, Executive Assistant ("3rd Secretary") to the American Ambassador to Brazil.
Madras [Chennai], India (Jul. 1950 - May 1952), "Economic Officer" reporting for the US Departments of Commerce and Agriculture.
Resigned, Feb. 1953.
• Foreign Travel Counselor, Minnesota State Automobile Association ("AAA"), 1953-1956.
• Product news publicist for 3M Corporation, 1957-1960.
• Advertising/Public Relations Executive (Vice President), Gould, Brown and Bickett, Inc., 1960-1963.
• Advertising Account Executive, John Lamb Co., 1963-1970.
• President and owner of Business Advertising Associates, 1970-1987.
• Sold business to Harvest Consulting, Inc., 1987.
Misc. Notes
Foreign language training: 3 years Portuguese, 1 year Spanish, 2 years French.
[3207]
Favorites:
[3503]
• favorite authors: Robert Benchly, Max Schuleman
• favorite movie: "Ninotchka"
• favorite radio personalities: Bob Hope, Jack Benny
• favorite humorist: Virgil Partch
• favorite magazine (for the cartoons): New Yorker
Member of "Jockey Club Brasileiro", 1950.
[3508]
Robert was a founding member of "Rebuild Resources, Inc." (a non-profit corporation, www.rebuildresources.com) and served as an officer and director. (source: Rebuild Resources newsletter dated 10-OCT-1988, written/edited by Fred Myers).
Spouses
1
(Private)

, Mother