Misc. Notes
Clinton was born at home (he said it was on the kitchen floor) by a mid-wife.
Secretary to Daniel C. Roper, Commissioner of Internal Revenue, 1918-1920
[1315], [2497]
In 1933 & 1934 he was president of the Association of the Country Club district, and in 1935 was a "delegate at large."
In 1935 he was listed as being on the editorial board of "The Crier," a publication of the Country Club District, Edina, MN.
Was one of the principal founders of St. Stephen's Episcopal Church, Edina, MN.
[1316], [1604], [2497]
Was Mayor of Edina, Minnesota, 1946-47. The position was also known as "President of the Edina Village Council."
[1316], [1604], [2497]
Advisory Commissioner to the Minnesota Department of Business Development
[1315], [1316]
President of the Edina Country Club, 1953.
[1315], [1316]
Spouses
Misc. Notes
Speculation: "Orline" may be a variation on her grandmother's Norwegian name, "Oline."

Orline's early life in Webster, South Dakota, was brief, as the family relocated to Minneapolis, Minnesota, about 1901-1903. This included Orline's older half sister, Mellicent Grace Hull. Her younger sister, Adella Irene, was born soon after. In Minneapolis, Orline attended South High School, graduating in the class of 1918, as an honor student in Modern Language. After graduation, she taught school somewhere, though no specifics of that are known. As of 1921, she had obtained employment as a clerk with the Retail Hardware Mutual Fire Insurance Co. And it was as a result of this that she met her future husband, Clinton James Christopher. The two were married, June 14, 1922, in Minneapolis. She was active in the community, which included being secretary of the Women's Club of the Country Club District, Edina, Minnesota (1934-35) and President of the PTA for the 1936-37 school term at Edina Morningside school. For a time, a friend of hers got her a job at Burma Shave.
Research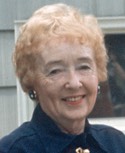 2
Lethe Genevive GROVER


, Step Grandmother
Birth Place
Burnett Co., Wisconsin, United States
Census Date
6 Jun 1900 [3241] Age: 2
Census Place
Grantsburg, Burnett Co., Wisconsin, United States
Death Date
25 Apr 1999 [2073] Age: 101
Death Place
Belleair, Pinnellas Co., Florida, United States
Burial Place
Minneapolis, Hennepin Co., Minnesota, United States
Burial Memo
Lakewood Cemetery
Alt.Spelling
Lee G. NEWELL [4418]
Education
Grantsburg High School, Grantsburg, WI [2073]
Education
University of Wisconsin, 1920-B.A. in English [2073]
Misc. Notes
Descended from William (1609-1673) and Elizabeth (1612-1684) TUTTLE. They came to the USA from England, in 1635 on the ship "Planter."
Was a member of the DAR.
[2073]
Marr Place
Alabama, United States
Div Place
Pinellas Co., Florida, United States